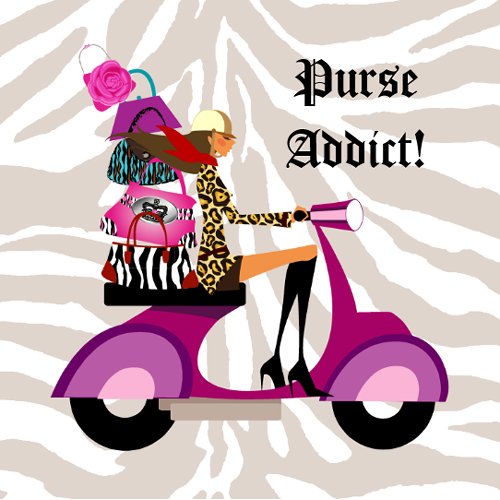 Purse Lover Party
Theme Planning, Ideas, and Supplies
There is no such thing as too many purses! Grab your bag ladies, it's time to party! A purse party is the perfect party theme for Ladies Night Out Parties, Bachelorette Parties (Hen's Night In), Bridal Showers, Birthday Luncheons, Retirement Parties, and even Quinceanera Celebrations, Teen Parties, Sweet Sixteen Parties, and Bat Mitzvah Celebrations (especially if you add a charitable element to your celebration).
Check out some of our related party themes that also go great with such celebrations:
Shoe Lover Party Theme | Ladies Yoga Night |Ladies Cocktail Night Out Party | Take a Walk on the "Wild" Side (Animal Print Theme)
Purse Lover Party Invitations
Choosing your invitation sets the tone for your event so spend some time exploring our examples to find the perfect fit for your party! Just change the words to Purse, Pocketbook, Shoe or Jewelry Party to fit your specific theme.
Little Black Dress and Accessories Bachelorette Party Invitation | Purse Invitation
You're Invited to a Purse Party! Invitation | Fashionista Handbag Heaven Invitation
HANDBAGS GALORE – Purse themed Invitations |  Polka Dot Purse Handbag Invitation
Use these adorable purse lover themed stamps to vamp up your party invitations even further!
Shopping lady stamp | Pink Purse Postage Stamp | High Fashionista Zebra stamp
 Ladies Valentine Pink Purse Rose Perfume Postage | Six Little Purses Postage Stamps | Pretty Purse Postage 
Don't forget to thank your guests with some purse lover themed thank you cards!
Six Little Purses Card | Purse Icon Cards
Personalized stationery-purses cards | Shabby Pink Roses Purse Border Cards
Purse Lover Party Tableware & Decor
We have searched and searched and unfortunately cannot find many acceptable paper goods that are perfect for a purse lover theme party, so for tableware we recommend sticking with the general color theme of your party and incorporating your theme through pure lover table decor.
C.R. Gibson Lolita Square Appetizer Plates | C.R. Gibson Lolita Shopaholic Acrylic Wine Glasses
Pink and White Dots Dessert Plates | Pink Chevron Dessert Plates
Solid Color Party Supplies | More Solid Color Tableware
Pink Zebra Boutique Born to Shop Lunch Napkins | Cupcake Wrappers with Coordinating Topper Decorations
If you are up for some DIY action, try creating your own plates! For those non-crafty types, do not panic! The only work involved is ordering solid colored partyware and personalized purse theme stickers and then applying the stickers to the plates and cups. Not only can you personalize the message, you can also choose the shape of your sticker.
Cute Green Floral Purse Stickers | Fresh Lime (Lime Green) Dinner Plates
Zebra Purse Girl Stickers | Animal Print Zebra Deep Dish Square Dessert Plates
Purse Monogram O Sticker | Bright Pink Premium Plastic Banquet Dinner Plates
Fashion Stickers Scooter Woman Purses Zebra | Gold Square Dessert Plates
Pretty purse floral stickers | Bermuda Blue Paper Dinner Plates
Purse Gift Label Round Stickers | Black Velvet (Black) Dinner Plates
Welcome each guest to their seat at the table with one of these adorable purse-shaped place card holders!
Super Chic Purse-Inspired Place Card Holders | Handbag Place Card Holders
  
Mini Purse Placecard & Favor Holders | Resin Pocketbook Frame – 4 Assorted
Glamour Girl Purse Photo Frame Place Card Holder | Purse Frame Place Card Holder
Purse theme table centerpieces will help carry your theme on through your meal. They also make great party prizes!
Emerald Moss Purse – Medium | SuperMoss Beaumont Purse, Set of 3
A little Fab' Baggage! Photo Cut Outs | 3 Piece Fashion Puppy Purse Centerpiece Set
We love, love, love theses ceramic cookie jars. Either fill them with cookies or other treats to eat as dessert, or add flowers or a flowering plant…
Ceramic Handbag Cookie Jar | Black and White Handbag Cookie Jar | David's Cookies Navy Handbag
 David's Cookies Zebra Handbag | Red Pleated Handbag Cookie Jar | Ceramic Red Flower Handbag Cookie Jar
…or scavenge for vintage purses and tuck a great flower bouquet inside or add a coordinating balloon bouquet  for a festive touch.
Purple Perfection Bouquet | 1 Dozen Long Stem Mixed Roses | Amethyst Riches Calla Lily Bouquet 
Handbag of Blooms | Garden Inspiration
Magenta with White Flowers Balloons | Lavender with Stars Matte Balloons | Big Polka Dot Latex Balloons
Damask Pearl White Latex Balloons | Damask Blue Latex Balloons | Damask Metallic Black Latex Balloons
Consider using keychains instead of formal napkin rings since they also double as party favors. Pull the napkin through the ring and then adjust the charm to best show it off. Another great option is to skip the napkin rings altogether. Just fold your napkin beautifully and tuck your party favor into the pocket fold. Bookmark favors and cookie favors work particular well for this.
Alexx Inc. Finders Key Purse – Bella Handbag | Enamel Cream Nude Ladies Designer Handbag Keychain
Leopard Print Purse and Shoe Cupcake Picks | 12 Plastic Couture Handbag Cupcake Picks Cake Toppers
Purse Sugar Decorations Cookie Cupcake Cake 12 Count | Red Leather Handbag Edible Image Cup Cake Toppers Decorations
Cybrtrayd Purses Fashion Chocolate Candy Mold | Fashionista Cookie Cutter Set
We are absolutely inspired by the variety of amazing purse themed cakes we have found! Check out this easy DIY video on how to make a purse cake for your purse-loving guests…
…or, if you really want to WOW your guests, check out Elisa Strauss's online class on how to make your very own elaborate Designer Handbag Cake!
Purse Lover Party Favors
Kilofly Purse Hook – Violet | Kilofly Purse Hook  – Blossoms Garden | More Kilofly Purse Hooks
Kilofly Purse Hooks Value Pack – Miley | Silver Fumi Bracelet Purse Hook
Pocketbook Design Mirror Compact Favors | Fashionable Purse Design Compact Mirror Favors
Little Black Purse Patent-Leather 5 Piece Manicure Favors | Pink Polka Purse Manicure Set
Chocolate Purse Favor with Personalized Tag | Embossed Favor Bags with Handles
Don't forget the wrapping! Consider filling these adorable little gift bags with some of our suggested products above or with personalized M&Ms, Jelly Bellys
, or Jordan Almonds and Amorini Hearts Candy.
48 Organza Drawstring Pouches Gift Bags Assorted Colors | Coin Purses, Fortune Cookie' Style
Mini Woven Favor Bags | Gift Box Clear Fashion Purse
Taffy Candies in Personalized Natural Cotton Favor Bag | Embossed Favor Bags with Handles
   
Pink and Black Argyle Empty Favor Purses | Purse Shaped Favor Boxes
Purse Lover Party Theme Fun & Games
Purse 18 inch Pinata | Glamour Girl Purse Pinata
Melissa & Doug Simply Crafty Precious Purses Craft Kit | Melissa & Doug Petite Purse
Make Your Purse Lover Party Last a Lifetime
Don't let this memorable night fade away with the morning sun. The next day, when all is still fresh, log onto Mixbook to create photo books, memory calendars, and even photo thank you notes or create a 5×7 photo card announcing the day, time, and location of your next celebration.
Or do it the old fashion way — print your own photos and store them in an easily accessible photo album or binder with photo page inserts.
Fashion Purse Binder| Pink Patent Shoulder Bag Vinyl Binder | High Fashionista Binder Lime
Party Hearty!