Toga Party
Veni. Vidi. Vici.  ♦ . I Came. I Saw. I Conquered.
Why Toga?
Whether you are celebrating the Ides of March, one of the many Italian holidays, festivals, or feast days, hosting an Animal House viewing party, or simply love partying  while wearing not much more than a sheet, here at Party Idea Pros we say any day is just another excuse to party.  Your  Toga Party can be as elegant or as bawdy as you desire.
Toga Party Invitations and Stamps
Choosing your invitation is the equivalent of the title of a paper … it sets the tone for the entire party!
Veni, Vidi, Vici – I Came, I Saw, I Conquered. Flyers | Veni, Vidi, Vici – I Came, I Saw, I Conquered Invitations | Veni, Vidi, Vici – I Came, I Saw, I Conquered Stickers
Perfect for decorating place cards
Cluster of Grapes & Togas Toga Party Invitation | Elegant Toga Party Beautiful Classical Motif
TOGA PARTY | Greek Goddess & Peacock Toga Party Invitation | Greek Key Invitation | Black Laurel Invitation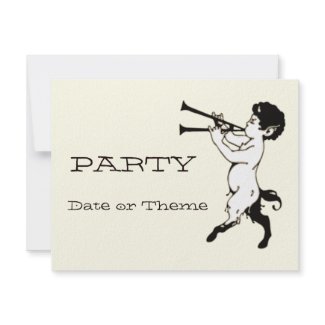 Young Faun With Double Flute | Greek Column, Bold Text
New!
Colorful Greek Themed Party Invitation Ancient | Grape Adorned Drama Masks Toga Party Invitation | Bacchanalia Time Invitation
Looking for an unconventional, fun invitation idea? Attach a note with all the party details to a pair of sunglasses.
Neon Sunglasses
How about something a bit more formal?
Champagne Bubbles : Black Invitation | Fire Light Black Invitations
Figs: Wedding Invitation | Marquee: Wedding Invitation | French Bow: Wedding Invitation
Toga Party Stamps
Veni Vidi Vici Stamp | Chor Mosaics At San Vitale In Ravenna, Szene: Mose Postage | Artemis Postage Stamp | Greeks Carrying Grape Cluster Grapes Postage Stamp
Greek in The Grapevines Postage Stamp | Greek in Toga & Peafowl Peacock Postage Stamp | Greek & Grecian Architecture Dove Postage Stamp | Hebe Postage
Toga Party Decorations
Mediterranean Kit | Ancient Greece Kit
Banners and Backdrops

Toga Memories Banner in a variety of sizes
Balloons
Gold Balloons | White Balloons
Centerpiece Ideas
Starburst Centerpiece – Gold | GREEN GRAPE 3D CenterPiece Stand  | Floral Bronze Low Centerpiece
Greek Ironwork Spartan Helmet | Greek Vase Ornament | "Greek Ironwork Ensemble (Set Includes: Greek Goddess, Spartan Horse and Spartan Helmet)"
Nike of Samothrace Winged Victory Greek Goddess Statue | Eros (Cupid) & Psyche Greek Roman Mythology Lovers Statue | God of War Ares (Mars) Greek Roman Mythology Statue
Change the look of your home furniture … cover tables, couches, chairs, everything!
Solid White Flat Sheet
Drape over all your furniture and tables and then trim with garland and gold cord.  Buy the cheapest cotton sheets you can find.  These were 64% off, last we checked.
Now Add a touch of Ancient Rome
.   
  
Four 6′ Artificial Grape Ivy Garlands with Grape Clusters | Ivy Vine Garland | Fine Matte Metallic Twist Cord Style | Grapevine Cluster String Light Set | Grapevine Garland
Perfect Candles for a Toga Party
The More Candles the Better!
Low lights and candlelight can transform an ordinary room into a chic and festive party venue.   There is no such thing as too much twinkle at any party so the more candles, tea-lights and votives, the better.
Bronze and Gold Four Taper Candle Candelabra  

This antique gold holder features a classical roman styling. Your burning candle gives off a soft glow as it shows through from inside the basket. Fits a Jar Candle up to 4″ inches wide. This is an excellent holder for a 20 oz Jar Candle, available in a variety of fragrances. It is also a lovely accent with a votive and votive holder placed inside.
Toga Party Favors
Mini Olive Oil and Vinegar Bottles with Personalized Labels
Toga Party Paper Goods
Solid Gold Paper Plates, Cups, Utensils, and Table Cloths
Gold Dessert Plates | Gold Square Dessert Plates | Gold Lunch Napkins | Gold 9 oz. Paper Cups (24 count)
Veni, Vidi, Vici – I Came, I Saw, I Conquered | Jeff – The God of Biscuits | 311-Golden diVine Sticker White Delight | Gold Laurel Wreath Stickers
Add a sticker to the center of your gold plates and cups…
Gold Heavy Weight Forks  | Gold Heavy Weight Knives | Gold Heavy Weight Spoons
Toga Costumes
Toga Party Costumes
We're not sure if costumes qualify as party decor or as entertainment, but in either case, for this theme we highly recommend making your Ides of March party a costume party!
The Classic Toga
Rather than a sheet, it is best to go to a fabric store and buy real fabric — solid white is traditional, but any color, any pattern will work if you just want to have fun with the whole toga concept and want to stand out from the crowd. Generally, fabric is less expensive than sheets and is a better shape for wrapping around your body. TogaBoy suggests buying 4-6 yards of fabric.
Beyond a sheet …
We've included both ancient Greek and Roman costumes — although not entirely authentic, by including both, you have more options.
Greek & Roman Costumes & Accessories
Don this fabulous head wear with your togas.
Not Quite a Costume
Not so into the toga thing?  How about one of these t-shirt designs?  They come in a variety of styles and colors.  If you happen to be on a college campus and want to generate excitement for your party, consider shooting t-shirts into a crowded quad or cafeteria like they do at ballgames.
T-shirts: Veni, Vidi, Vici – I Came, I Saw, I Conquered T-shirt | Ides of March T-shirt | Sling shots |
Ties: Ides of March Tie | Veni, Vidi, Vici – I Came, I Saw, I Conquered. Necktie
Food and Drink for your Toga Party
Signature Cocktails
1 ounce apricot nectar (30 ml)
Prosecco, to taste
Pour apricot nectar into a champagne flute. Top with Prosecco.
Ingredients:
– 2 oz Aperol (Italian light spirit)
– 1 oz Gin
– 3 oz Club Soda
– Splash of fresh orange juice
Garnish: Orange slice
Mix Aperol, gin and orange juice in a cocktail shaker with ice. Strain the mixture into a highball glass and top with club soda. Garnish with orange slice and serve.
Delectable Delights
Food is where the Italian influence can really shine. For a festive atmosphere, keep the food delicious, simple and bite-sized.   The Food Network suggests laying out easy-to-prepare foods such as bowls of olives and plates of crudités. Arrange crusty Italian bread, tapenade (olive spread), pesto and quality Italian salami on a large wooden cutting board and let your guests help themselves. Another option is a pizza station where your guests can create their own personalized pizzas
Robert Love's Roman Holiday: Bucatini, Fava Beans, Guanciale, Pecorino Romano | Olive del Diavolo | Olive Primavera: Fresh Three-Olive Blend Tossed with Citrus
Prosciutto Wrapped Melon | Proscuitto Wrapped Asparagus | Pizza Margherita | Portobello Pizzas | Lamb and Radicchio Barquettes | Calamari with Citrus Aioli | More Menu Ideas from Food Network
Roman Cookery: Ancient Recipes for Modern Kitchens
Toga Party Entertainment Ideas
Games can make for a killer evening

How to Host a Murder – Roman Ruins
Having mentioned your name in his Roman epic, the renowned poet, Flabbius Corpus, invites you to a banquet for the premier recitation of his historical work. When you arrive, you discover there's been a murder in the garden and a priceless statue is missing. As one of the eight Roman characters, you and your friends will be scheming and srambling til the end.
Watch a Movie (or just have it playing in the background)

Rent a season of Xena: Warrior Princess or stick with the classic warrior movies, Gladiator or Braveheart
Xena: Warrior Princess
| Gladiator | Braveheart
Music
Dinner In Italy | Viva Italia! Festive Italian Classics | Dinner Classics: The Italian Album
Xena: Warrior Princess – Soundtrack | Gladiator – Soundtrack | Braveheart: Original Motion Picture Soundtrack |.Make your own iMix
Party Hearty!