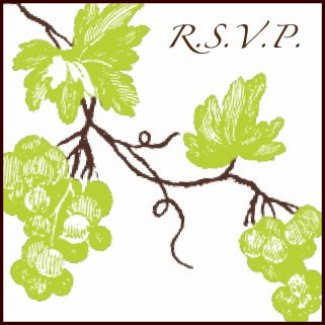 Cheers!  You will be the toast of the town when you host an elegant wine theme party.
This is a perfect theme for a wine enthusiast's birthday, anniversary, or retirement party.  It also works well for fundraisers, galas,  and dinner parties.   Party Idea Pros will walk you through every step of your wine theme party providing professional recommendation on just about every detail including invitations, table linens, centerpieces, napkin rings, place cards, party favors, and lots and lots of little extras.  Party Hearty!
Wine Party Invitations and Stamps
Choosing your invitation is the equivalent of the title of a paper … it sets the tone for the entire party, even a casual party! We found lots of great wine party theme invitations from which to choose. Here are a few of our favorites. If your event is more formal than casual, we especially like Wedding Paper Divas Wine Country Wedding Invitation.
Divine Wine – Party Invitations
Wine Pairing – Party Invitations
Wine Glasses – Party Invitations
Wine Tasting – Party Invitations
Wine Label – Wedding Invitations
Wine Label – Wedding Invitations
Wine Connoisseur – Rehearsal Dinner Invitations
Decorative Vineyard Wedding Invitations
Wine Bottle Invitation – Box of 10
Wine Bottle: 100 Personalized Invitations / Announcements
Wine Bucket: 100 Personalized Invitations / Announcements
Faded Wine Bottle: 100 Personalized Invitations / Announcements
Wonderful Wine Glasses: 100 Personalized Invitations / Announcements
Wine Bar: 100 Personalized Invitations / Announcements
Wine Leaf: 100 Personalized Wedding Invitations
Venture Wine Country: 100 Personalized Invitations / Announcements
Wired in Wine: 100 Personalized Wedding Invitations
The Delight of Wine: 100 Personalized Invitations / Announcements
Fine Wine Gala: 100 Personalized Invitations / Announcements
Portrait Of Wine: 100 Personalized Invitations / Announcements
Midnight Vineyard Party Invitations
Grape Cluster: 100 Personalized Save the Date Announcements
…
Remember you may also need to order any or all of the following: Save the Dates, Invitations, Let's Celebrate Cards, Reply Cards Reply Envelopes, Stamps For Invitation, Stamps for Reply Card, Thank you Notes, Welcome Letter for Out of Towners, Directions, Menus, Thank you for joining us tags. (More concrete ideas and suggestions coming soon!)
Elegant Return Address
The custom embosser is all about sophistication. Now you can easily add some elegance to everyday stationery or as an elegant alternative to having your return addresses printed on your party invitation envelopes. They also make wonderful gifts. You will be surprised at how often you use your new embosser.
Wine Party Stamps
Personalize your stamps by using one of the great zazzle wine theme stamps. Please be sure to bring a complete invitation, including all inserts, to a local post office to determine exactly how much postage is required. If you decide not to customize, please do not mix stamps. It is better to add too much postage than a hodgepodge of mismatched stamps. You have spent so much time and money on every other detail, the difference in price is not worth giving a sloppy first impression.
Wine Party Table Linens
The Best Vintage Yet! With a wine theme either keep your linens simple or go for the gusto. Your final decision should be based on two factors: the physical characteristics of the event room and your guest of honor's personal style.
Our first choice would be to use BBJ Linen's Wineberry Bengaline. If you want to add more pizzazz and feminize the room, use the Merlot Casablanca as your primary linen with the Wineberry Bengaline as your coordinating linen and napkin. Then add eggplant lamour chair covers. If you prefer to masculinize the room try the Moroccan Stripe Sheer with Wineberry Bengaline coordinating linen, gold lamour napkin and chair covers with the moroccan stripe sheer chair tie.
If you want to save some money, most venues will supply complimentary white or cream linens. Either will work — although you may want to use a Wineberry Bengline, burgundy lamour, or burgundy or ruby classic napkins. Likewise, if you are hosting a wine party at your house stick with wine, black, white, or cream linens. In fact, placemats will also work great, and to tell you the truth, to save money,  I often use  individual sheets of 12 x 12 scrapbooking paper  — alternate, wine, black, and cream papers or the double sided 12 x 12 beau jardin wine. If you are feeling creative and have lots of time, you can even create a layout highlighting your guest of honor. Alternatively, use your place mats as place cards by creating a page for each of your guests. Laminate it and tie with personalizedribbon for a complete favor anyone can enjoy.
Beau Jardin Wine – 12 x 12 Double Sided Paper
Or rather than make your own, just purchase these wine themed place mats and tablecloths.
…
Bordeaux Wine Label Cloth Placemats
Burgundy Wine Label Plastic Placemats
Wine and Cheese Pewter Tablecloth Weights
Wine Labels French Coated Tablecloth
This tablecloth could be cute on a small square table but don't like the way it looks in the picture.
Just a note on chair covers: chair covers may not be necessary if the chairs supplied are fairly neutral and in ok condition.  In fact, I tend to not use chair covers  at any of my personal parties.  Having said that, if your budget permits, the overall look of this particular theme would be enhanced if chair pads are used to pick up one of your accent colors.
If you are having a fairly large party, don't forget to include your place card table, your gift table, buffet tables, and any ceremonial tables when determining your linen count.  Also, if you chose to use more ornate linens, do not use them for the cocktail hour; they will have a greater impact as your guests enter the dining room.
Wine Party Centerpieces
If you need to set many tables, Party Idea Pros suggests using a number of different but complimentary centerpieces.
To create a centerpiece similar to the look in the photo you will need a footed bowl filled with ice, grapes, and some greens.  First check your cabinets for any crystal or cut glass bowls you might own.  Mixing and matching is absolutely fine — in fact it adds interest to the tables.  For effect, throw a couple of neon ice cubes in with your real cubes.
Waterford Crystal Ballet Icing
Other good options include …
"Vintage Masterpiece" Bottle Stopper Candelabra-Triple
The old-world style of this elegant candelabra makes quite a statement. With charm and grace, you can transform any wine bottle into a masterpiece by simply placing the wrought iron design with three candle holders in the top of the bottle. Great for romantic dinners! Facts and features: Wrought iron design will coordinate with any decor.
"Vintage Masterpiece" Bottle Stopper Candelabra-Double
Double Wine Bottle Candelabras -Set of 2
Grapevine Candleabra Wine Bottle Topper
…
Wine Barrel Stave Candle Holders
The classic three votive candle holder made from vintage California wine barrel staves
Oak wood candle holderThe classic single votive candle holder made from vintage California wine barrel staves
The classic five votive candle holder made from vintage California wine barrel staves
Wine Barrel Stave Candle Holder
Grapevine bottle holder- Grapevine Centerpiece wine bottle rack
Grapevine Candle Holder Wine Glass And Bottle Storage
Grapevine Votive Decorative Candleholder Centerpiece
Grapevine Votive Decorative Candleholder  Centerpiece – set of 15
Grapevine Style Candleholder Votive Centerpiece
California Wine Collection, 3 Bottles
Last I checked this grapevine candle stand was reduced 88% to just $3.75 each!
…
Wine Theme Floral Arrangements
This is so frustrating — we must apologize – we cannot keep up with the constantly changing floral links so rather than continue to send you to places that no longer exist, we have decided to just post pictures for inspiration and recommend you check out the current selection at our "go to" florists!
1 800 Baskets | 1 800 Flowers | FTD.com | GiftTree | Teleflora
Now Make Them Move
These centerpieces are just too darn cute to stay still. Place them on this revolving base to add movement and pizzazz to your table.
Lots of options …
Rotating Display Base with Mirror Top and Mirrored Mosaic Sides
Large Rotating Display Base Has Mirror Top And Will Hold Up To 44 Lbs.
Wine Party Napkin Rings
First use these decorative wine collars as napkin rings and then let your guests take them home as party favors to be used for the true function.
Nicholas Collection Wine Drip Collars – Set of 2
Prodyne Pewter Ornamental Grapevine Drip Collar (DC-2)
Ornamental Pewter Drip Stop Collar – Grapes
Another option is to skip the napkin tie altogether — Just fold your napkin beautifully and place a wine bottle stopper in the pocket for everyone to take home as party favors.
Purple Grapes Glass Wine Stopper
Fleur de Lis Bottle Stopper Favor
"Vineyard Select" Enamel and Chrome Bottle Stopper
Starfish Wine Bottle Stopper Party Favors
Personalized Bottle Stopper Favors
"Wish Upon A Star" Bottle Stopper Favor
Leaf Copper-Finish Bottle Stopper Favor
…
Arthur Court Grapevine Napkin Rings
These grapevine napkin rings are perfect for a rustic vineyard look and are actually well priced! Hurry, quantities are limited.
Wine Party Place Cards
Each one of these place cards are cuter than the other … any choice you make will be great!
Silver Wine Cup Placecard Holders
"Allure" Glass Grapes Place Card Holders
Wine Cork Resin Place Card Holder Set
Wine Cork Place Card Holders (Set Of 4)
"Maison du Vin" Wine Cork Place Card/Photo Holder with Grape-Themed Place Cards
Don't forget to buy the place cards to use with the place card holders!
Personalized two tone place cards
Personalized Wine Hang Tags, Wine Labels, and Wine Coasters
Another option, especially If you are having a fairly small party, is to purchase sets of personalized wine hang tags, wine labels, or wine coasters for each of your guests and place them at their assigned seat.
…
Personalized Wine, Cider, and Champagne Bottles – Labels Only
Personalized Wine Bottle Labels
Wine Theme Party Favors
Although the recommended place cards and napkin ties also serve as party favors, if you want to lavish gifts on your guests or prefer to use a simpler place card, consider these fun party favor ideas. They will also add another dimension to your table setting. Order 1 party favor for each couple, 1 for each single. Use a liquid gold pen or colored Sharpie marker to write your the guest of honor's name and the date of the party or attach a  personalized favor tags or place card tag.
…
Private Reserve Wine Coaster Set
…
"Divine Vine" Vineyard Gourmet Brownie Favors
These key ring wine bottle bar tool favors can also double as napkin rings.  Just thread the napkin through the key ring.
Favor-making kit includes goblets, tulle circles, ribbons and favor tags to create your own wine glass favor. Just add candy. Features and facts:Wine glass favor kit includes items to make 24 favors: plastic wine glasses, tulle circles, white ribbons and favor tagsTags can be personalized by hand.
Personalized Minty Chocolate Candy
Choose all dark red/wine colored candies.
Wine Gift Tags
Wine Party Candles
These fun candles will add even more flare to your party and many can  double as centerpieces or party favors.
Merlot Wine Glass Candle Party Favors
Sparkling Wine Glass Candle Favor
"Wine Disguise" Wine Cork Candle (Set of 4)
These clever candles masquerade as corks, but they'll bring a warm glow to your tables as quaint miniature lighting. Better yet, place one in the mouth of a wine bottle and turn it into a candle holder.
Wine Candle in Wedding Gift Box
Wine Barrel Candle Holder And Bottle Stopper Set (Taper)
Wine Barrel Stave Candle Holders
The classic three votive candle holder made from vintage California wine barrel staves
Oak wood candle holderThe classic single votive candle holder made from vintage California wine barrel staves
The classic five votive candle holder made from vintage California wine barrel staves
Wine Barrel Stave Candle Holder
You might also consider adding a candle lighting ceremony to your celebration.  Line up unlit candles on a table and honor special friends and family by inviting them to light each candle with you.
Try writing a poem for each candle …
Old friends are precious, they are special and rare,
Even when we're not together we know how much you care
So Caryn and Carole, bring up your men
And light this candle, it's candle #10
Wine Enthusiast Home and Garden
Sometimes Party Idea Pros just comes across an idea or a site which might provide that little extra something you are searching for …
Party Wine Glasses Set Of 12 With Storage Box
Flashing Light Wine Glass in Gift Box
…
Grapevine Collection that wine is mine! Wine Glass Charms
Personalized Silver Round Wine Bottle Tag
Personalized Silver Star Wine Bottle Tag
Grapevine Cluster String Light Set
Arthur Court Grapevine 19-Inch Oblong Tray
Arthur Court Grapevine Salad Servers
Wine Memory Keepers
Save the Memories Circular Wine Cork Trivet Kit
Wine Journal With Label Removers
Cellarmaster Deluxe Wine Label Album And Tasting Record
Wine Theme Plates and Dinnerware
Pfaltzgraff Grapevine Dinnerware Set
More Pfaltzgraff Grapevine
Peggy Karr 10-in. Wine Dinner Plate
Peggy Karr 8-in. Wine Salad Plate
Peggy Karr 14-in. Wine Serving Platter
Peggy Karr 18×13-in. Wine Serving Platter
For your Wine Cellar
Wine Accessories
From The Grapevine 5 Piece Wine Accessory Set
Royce Leather 619-BLACK-6 Wine Accessory Valet – Black
Fine Wine Tote with Accessories
Picnic Time 880-00-504 Chianti Three Piece Set Wine Accessory Box
Wine Accessories in Deluxe Mahogany Wood Box
…
Silver Wine Stopper and Cork Screw Set
The Sharper Image Wine Preservation Kit with 4 Stoppers
Reusable Wine Tags Cellar Set with Pen by Oenophilia
Color Paper Bottle Tags – Pack of 100 by Wine Enthusiast
Reed Diffuser for the Wine Lover
Wine Racks
Just a sample of the many products available
Oenophilia Tendril Table Wine Rack in Copper – Holds 4 Bottles by Oenophilia
6-bottle 6 Bottle Pewter Bouquet Wine Rack by Oenophilia, Pewter
…
Grapevine 6 Bottle Wine Rack by Umbra
Minuet Wine Rack by Oenophilia
Wooden Wine Rack – 12 Bottle in Ebony
…
Wine Rack – 21 Bottle Wine Butler
Spectrum 21-Bottle 21 Bottle Trellis Wine Rack in Black by Spectrum, Black
Old Dutch International 27.25x68x16-in. Baker's Rack with Wine Rack, Copper
…
Wine Cellar Innovations 152-bottle Accessory Lattice Rack, Black
JK Adams 40-bottle Wine Rack, Natural Wood
Wine Corks
Wine Lovers Gift Baskets
…
California Signature Wine Gift Basket
Leonetti Reserve Wine Gift Basket
…
Penfolds Grange Wine Gift Basket (ok – yes, this one is beyond over the top)
Luxury Wine & Gourmet Gift Basket
Wine Theme Party Chocolate
Wine Chocolates From The Santa Cruz Moun
Wine Chocolates From The Santa Cruz Mountains
Wine Chocolates From Napa And Sonoma
3-1/2″" grape cluster Chocolate Mold: 1 Count
The Wine!
There would be no wine party without wine.
Chateau La Paws Dog Lover's Wine Gift
Personalized Birthday Wine Bottles – Birthday Balloons
Cakebread Cellars Napa Valley Chardonnay
Wine Theme Fun and Games
Winerd Wine Trivia and Blind Tasting Board Game
Murder Mystery Party – A Taste for Wine and Murder
Family Games don't break the bottle original edition
Make your guests work for their libation!
…
The Wine Tasting Party Kit: Everything You Need to Host a Fun & Easy Wine Tasting Party at Home
The Wine Tasting Party Kit: Everything You Need to Host a Fun & Easy Wine Tasting Party at Home
Wine Theme Party Costumes
Dionysus – The God of Wine Adult Costume
Wine Party Beverage Napkins and Paper Goods

No matter how formal or casual your party, wine theme beverage napkins will get your celebration off to a festive start. Choose one style or mix and match all styles to add a bit of punch to your cocktail hour. Order 5-6 napkins per guest figuring everyone has 1-2 drinks, and 3-4 appetizers each.
The Little Extras for Your Wine Theme Party
Sometimes Party Idea Pros comes across an idea or a site which might provide that little extra something  you are searching for or is just too cute to pass up.
Wine  Theme Binders
Books and Music for the Wine Enthusiast
Wine Enthusiast Essential Wine Tasting Kit: Everything You Need to Host a Wine Tasting Party
Cocktails 2010: The Ultimate Source for 170-Plus Terrific Cocktail and Party-Food Recipes
Wine Made Easy: How to Taste*Wine Styles*Wine & Health*Understanding Labels*Wine & Food
The Cork Jester's Guide To Wine
Wine Labels, 1730-2003: A Worldwide History
The Art and Design of Contemporary Wine Labels
Music for Wine Lovers
Vintage Selections: Wine-Tasting Music
Putumayo Presents: Music from the Wine Lands
Oinos Music To Enjoy Wine (Toussaint)
Plan a Romantic Trip to the Wine Country
When I think of the the Wine Country, I automatically think of Napa Valley and the surrounding area, but in California Paso Robles wine country and San Luis Obispo wine country also offer superb wine tasting for day trippers and truly memorable wine country vacations. Of course, there is always France and Italy. How about a Bordeaux wine experience with a chateau stay or enjoy a luxury hotel barge cruise on the Burgundy Canal with wine tasting, ballooning and more.  Be sure to add Australia, New Zealand, Argentina, and South Africa to your list of romantic wine country vacation destinations. And although California has been the undisputed king of wine in the U.S., but many of the country's best wines are now coming from the Pacific Northwest.  Consider a trip to the Okanagan in British Columbia, a Walla Walla Valley wine tour,  or Oregon pinot noir tasting in the Willamette Valley.  If you are on the East Coast, New York state is home to many fine rieslings and other white wines.  Plan your wine lover get away today!
Make the Night Last a Year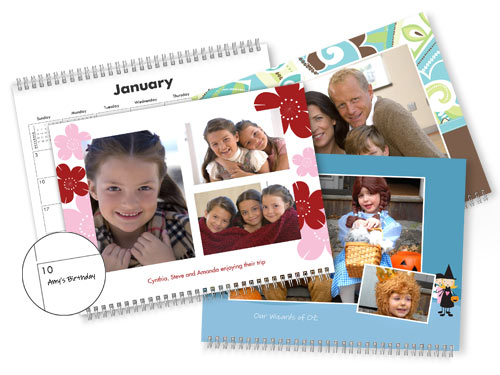 Don't let this memorable evening fade away with the rising sun. The next day, when all is still fresh, log onto Shutterfly.com to create photo books, memory calendars, and even photo thank you notes or create a 5×7 photo card announcing the day, time, and location of your next celebration.
Collage Calendars
Party Hearty!