If your child is crazy for the character who lives in a pineapple under the sea, throw him or her a SpongeBob party! Read on for our ideas on creating a perfect SpongeBob Square Pants birthday party, with ideas on decorations, favors, games, invitations and more.
…
Who is SpongeBob Square Pants?
Deep down in the Pacific Ocean in the subterranean city of Bikini Bottom lives a square yellow sea sponge named SpongeBob Squarepants. SpongeBob lives in a pineapple with his pet snail, Gary, loves his job as a fry cook at the Krusty Krab, and has a knack for getting into all kinds of trouble without really trying. When he's not getting on the nerves of his cranky next door neighbor Squidward, SpongeBob can usually be found smack in the middle of all sorts of strange situations with his best buddy, the simple yet lovable starfish, Patrick, or his thrill-seeking surfer-girl squirrel pal, Sandy Cheeks. In Bikini Bottom, fish walk, blowing bubbles is art, and the tastiest undersea treat is a deep-fried Krabby Patty Burger. Dive in and soak it all up with SpongeBob! (SpongeBob Square Pants TV Promo)
…
…
New!
Bandz make perfect party favors and napkin rings!

Sillybandz – SpongeBob Squarepants
…
..

What Do I Need For The Party?
Party Idea Pros has an "old fashion" approach to kids' parties. We say keep them small, keep them short, and keep them simple. We love hula hoops, beach balls,, crayons, washable markers, glue sticks, and musical instruments. Generally, the number of guest should equal the age of the birthday child, but don't obsess if you are a few over or under — it is not worth the hurt feelings for an extra child or even two. Never, ever deliver invitations as school, unless every single child is invited!!!!! Skip the jumpies and the pony rides.
…
For a great kids SpongeBob Square Pants party there are only a few essentials:
A great invitation — even before the party begins invitations create a sense of anticipation. Think of all the time your own child spends looking at those invitations on your refrigerator.
Great SpongeBob theme paper goods
A cluster or two of latex balloons mixed with some fabulous Mylar SpongeBob and/or animal shaped balloons (be especially careful of latex balloons if you have very young children present)
A fun sea theme centerpiece
For the food – keep it simple: serve either popcorn shrimp or hot dog octopus and cheesy shells, and fruit cut into sea animal shapes, drink ocean water out of fish straws, and for dessert serve a beautifully decorated SpongeBob birthday cake/ cupcakes and lots and lots of candy fish.
Four activities: a "doing" activity such as running through a SpongeBob sprinkler, waterslide, bubble machine, Bikini Bottom scavenger hunt or series of SpongeBob outdoor activity games, a craft activity such as SpongeBob and friends mask/costume making followed by a runway show or a sand art project, and a game activity like, "crab walk races or octopus tag, and to end the party, a chance to break the pinata. As the kids get older, the same activities work just make them more complex, and add a competitive/team component.
…
…
…
SpongeBob Invitations & Stamps
…
Personalized Invitations
Choosing your invitation is the equivalent of the title of a paper … it sets the tone for the entire party, even a casual kids party! We found quite a few SpongeBob theme invitations from which to choose. Here are a few of our favorites …
SpongeBob SquarePants: Sweetly Swimming – Party Invitations
SpongeBob SquarePants: Balloon Bonanza – Party Invitations
SpongeBob SquarePants: Bubble Ride – Party Invitations
…
SpongeBob SquarePants: Bubbly Balloon – Party Invitations
SpongeBob SquarePants: Seafloor Fun: Surf – Party Invitations
SpongeBob SquarePants: Party Time
…
SpongeBob SquarePants: Seafloor Fun: Blushing – Party Invitations SpongeBob SquarePants: Seafloor Style – Party Invitations
…
Sea Sponge Personalized Invitations and Thank You Notes
…
Starfish Wedding Invitation in a Bottle
Message In A Bottle Invitation
…
Fill-In Invitations
Spongebob Classic Invitation/Thank You Combo
Spongebob Squarepants Invitations and Thank You Postcards
…
DIY Ideas from Birthday in a Box
Cut the shape of SpongeBob SquarePants, a starfish or pineapple from card stock paper.
Cut a yellow sponge in half and glue it on white cardstock. Add googly eyes and draw on a face to create SpongeBob.
Wash and dry old soda bottles, write your party details on a slip of paper, roll it up, and slide it inside. Make sure the paper is rolled tightly and secured so it will easily slip out of the bottle when your guests receive it. If you don't want to make your own, purchase one of the invitations in a bottle.
Wash and dry seashells thoroughly and write your party details on the back of the shells. Send them in heavily padded envelopes, or hand-deliver them to your guests.
If you'd rather purchase invitations instead of making them, you can still have a personalized touch by ordering personalized theme invitations or you can purchase blank SpongeBob party invitations and fill in the details yourself.
…
…
SpongeBob Inspired Stamps

…


…
…
…
Sponge Bob Party Supplies
Paper Goods
SpongeBob Party Deluxe Birthday Box
…
…
…
…
Any shade or yellow or blue will work well with a SpongeBob theme party. Mix and match
…
…
…
SpongeBob Centerpieces
SpongeBob SquarePantsFigurine Characters
Spongebob Classic Bubble Bottles
…
A third option is to gather all your SpongeBob character plush toys or plush fish toys and simply group them in the center of the table. Again, add balloons, and maybe some confetti and you are set.
SpongeBob Plush Toys
…
Webkinz Plush Stuffed Animal Clown Fish
Mini Fish Plush Toy
Webkinz Plush Stuffed Animal Pucker Fish
…
Poseidon the Teal Colored Shark
…
…
…
SpongeBob Balloons
…
SpongeBob 12″" Latex Balloons (6 count)
…
Fill the party area with bunches of blue and green balloons. Add fish mylar balloons to a few of the bunches.
Prismatic Fish Mylar Balloon Each
Sky Blue Balloons
Midnight Blue Balloons
Forest Green Balloons
…
Create floating jellyfish using balloons with streamers attached
…
…
…

SpongeBob Theme Place Card Holders

""Shells by the Sea"" Authentic Shell Placecard Holders with Matching Placecards
Natural Seashell Place Card Holders
'Seaside' Sand and Shell Placecard Holder
Starfish Plantable Seed Place Cards
…
…
…
SpongeBob Theme Napkin Rings
These stringed shells fit perfectly around standard napkins and add a beach vibe to the table. Once seated the kids can wear them for the duration of the party. (Not appropriate for children under the age of 3).   Silly Bandz make for great napkin rings, too!
Pooka Shell Necklaces!
Sillybandz – SpongeBob Squarepants
…
…
…
SpongeBob Theme Party Favors
Sillybandz – SpongeBob Squarepants
…
Custom Sea Shells (min. order of 12 pieces)
…
SpongeBob Classic Party Favor Box
…
SpongeBob SquarePants: Bubble Balloon – Stickers
…
More SpongeBob party favor ideas from Birthday in a Box
Fill a beach pail or a bright yellow bag with favors like:

Custom Designed Beach Pails (Set of 6)
Make sure to check out Birthday in a Box selection of SpongeBob favors. And for a unique idea, consider personalized favors like buttons, bag tags, zipper pulls, and bookmarks, all printed with the child's name. To keep things easy, check out Birthday in a Box SpongeBob favor sets with everything already put together for you!
…
SpongeBob Water Games (4 count)
…
…
…

SpongeBob Inspired Decorating Ideas
Transport your guests to Bikini Bottom with these simple decoration ideas from Birthday in a Box:
…
* Cover the ceiling, walls and floor with blue transparent cellophane wrap to give the impression of being underwater. Or hang blue streamers around the party area and from the ceiling to resemble waves.
Cellophane 20″"x50′ Green Roll
…
* Scatter seashells and sand dollars around the side of the room.
Sea Shells W/ Lion's Paw Shell Assortment-6/Pkg
Sand Dollar & Starfish Mix 3/Pkg
…
* Place a bubble machine in one corner of the room.
…
* Use cardboard or poster board
and Crayola Washable Poster Markers to create underwater "street signs" to other SpongeBob sites, like Sand Mountain, Goo Lagoon, Jellyfish Fields, Kelp Forest and Mermalair or outside, hang a sign saying "Bikini Bottom this way," with an arrow pointing to the party area.
…
* Hang a fish net on the wall and attach shells and fish toys, including sea horses, crabs, lobsters, etc. Or hang the toy fish from the ceiling using clear fishing line.
…
* Create sea creatures like fish, starfish, shells, crabs, lobsters, etc., using cardboard paper or construction paper. Hang on your fish net or on the walls. Or for the time it will take you to do this just buy inexpensive fish cut-outs.
Paper Fish: Models and Mobiles to Cut Out and Glue Together
3D Decor Cut Outs 4.25"x4.5"-Yellow Fish
Rusty Tin-Tiques Tin Cut-Outs-Fish 4 2/Pkg
…
* Cut out flowers from poster board
or 12 x12 scrapbook paper to look like the background on the show and hang on the walls.
* Use a large appliance box and arts and crafts supplies to create SpongeBob's pineapple house or the Krusty Krab.
…
* Put inflatable palm trees in the backyard. Surround with sand, sand pails, sea shells and otherbeach toys.
6′ Inflatable Palm Tree with Monkey and Lights
…
We love these inflatable palm tree coolers!

6′ Inflatable Palm Tree Cooler Each
…
* Find a SpongeBob posters or a picture of a pirate in a magazine, or find one online and print it out. Hang it on the wall to represent the pirate in the opening credits of the show.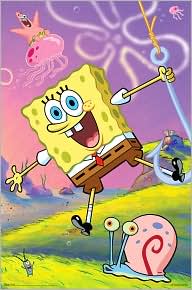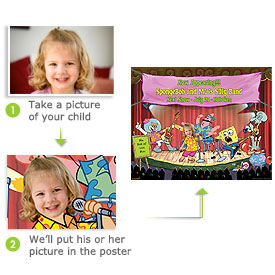 Spongebob Squarepants – Poster
Personalized SpongeBob Adventure Poster 11×14
…
SpongeBob Decor
8′ SpongeBob Giant Decorating Set
…
…
SpongeBob Food Ideas and Serving Pieces
To keep with the underwater theme, consider serving seafood at your SpongeBob SquarePants party. Here are a few ideas:
* Fish sticks
* Popcorn shrimp
* Krusty Krab Cakes (crab cakes or hamburgers)
* Seashell-shaped pasta
* Hotdog Octopus over Shell Pasta
* Serve goldfish crackers
, Swedish Fish, and gummy sharks and fish
…
Assorted Candy Fish: 21.5LB Case
Assorted Sugar Free Gummi Fish: 4.5 LBS
…
Foiled Wrapped Chocolate Fish: 5LB
Fish Around Game w/Candy: 24 Count
…
* Use cookie cutters to cut fish shapes out of peanut butter sandwiches, cheese slices, and deli meat slices.
Fish Cookie Cutters
…
* Cut red licorice strings into 2" sections and attach eight sections to a red gumball with a little red frosting. Draw on two eyes with black decorator icing to create octopus treats.
…
* Make "Sea Water" by coloring pitchers of apple juice with blue food coloring, and serve with fish straws.
…
* Bake a sheet cake and top with yellow icing. Then pipe on SpongeBob's features to create a SpongeBob SquarePants cake.
…
DIY SpongeBob Square Pants Cakes
Candy-coated and spectacular, this SpongeBob SquarePants cake is nothing less than a kid's dream cake. This outstanding confection has M&Ms, Twizzlers, gum drops, and more.
Nick Jr. SpongeBob Square Pants Cake Recipe
…

SpongeBob Party Toppers (6 count)
SpongeBob Squarepants Cake Pan
…
…
SpongeBob Square Pants Serving Ideas


Sea Shells for Baking ? Set of 6 Small
Large Plastic Sea Shell Bowl, 1 pc
Hog Wild Fish Sticks Party Set
Hog Wild Fish Sticks (Sold Individually)
SpongeBob SquarePants Sno Cone Maker (Both food and fun — We love this sno cone maker!)
…
…
…
SpongeBob Theme Party Fun and Entertainment
What is a kid's party without a pinata!
SpongeBob Buddies Pinata (String Pull Style)
SpongeBob Buddies Pull-String Pinata
SpongeBob SquarePants 24″ Pull-String Pinata
(Although these are all the same product, pricing varies so it is definitely worth checking around!)
……
Fun Summertime Water Activities
Spongebob Sponge Blast Waterslide
These kickboards are perfect for pool relay races!
…
…

SpongeBob SquarePants Sno Cone Maker ((Both food and fun– we love this sno cone maker!)is!)
…
SpongeBob Party Games
Make your SpongeBob SquarePants party a success with Birthday in a Box game and activity ideas below.
…
The cake is missing and the guests must follow the clues to find it.
Test everyone's knowledge of the deep blue sea with this fun quiz.
Seashell Necklace Craft
Let your partygoers make their own deep-sea treasure with seashells and string.
Edible "Sand" Art
Fill a bottle with colorful layers of candy "sand"… then eat it!
Octopus Tag Game
Any "fish" caught by the "octopus" must help catch other "fish".
Sponge Painting
Use sponges and paint to create fun artwork.
Crab Walk Races
This is one time when it's okay for your partygoers to act crabby.
Ocean Word Search
A great activity to keep guests busy until everyone arrives at the party.
What Sea Animal Am I?
Get all of your party goers involved in this fun sea creature guessing game.
Bubble Fun
Fill the air with bubbles in different shapes and sizes.
Musical Jellyfish
Pass around the jellyfish without getting stung to win.
Sea Sponge Coloring Page
Hand out this free coloring page at your party.
…
…
…
SpongeBob Toys and Games
There is a huge selection of SpongeBob toys and games available. Here is just a small sample of a few of our favorites. For just about anything and everything SpongeBob, check out Amazon's huge SpongeBob collection of products
Lego Spongebob Squarepants Krusty Krab Adventures Set
Lego Spongebob Squarepants Good Neighbors At Bikini Bottom Set
LEGO SpongeBob The Krusty Krab
LEGO SpongeBob The Flying Dutchman 3817
…
…
SpongeBob Squarepants Board Games
…
…
Play SpongeBob music, movies, or episodes of the show in the background.
…
SpongeBob Costumes
…
SpongeBob Squarepants with Drop Down Front Adult Costume
…
…
…
SpongeBob Home and Garden
Crane Spongebob Squarepants Cool Mist Humidifier For Baby
Spongebob Squarepants Shower Curtain
…
…
…
….
Cotton Print-Spongebob Undersea Flower
After clicking on the link, do not be discouraged if the fabric is "no longer available" — simply search SpongeBob. The fabrics are very popular and are sold out quickly but are just as quickly replaced with new patterns.
…
…
…
SpongeBob Clothing and Accessories
For SpongeBob Adult Fans
SpongeBob SquarePants, Keep It Real Jacket – Men's
SpongeBob SquarePants Hug T-Shirt
Here again, after clicking, simply search for spongebob — although the links keep changing the same products can be found after an easy search.
… 
SpongeBob pajamas are perfect for a sleepover party. The pictures will be priceless.
Another idea: I use to bring all the cousins gifts when we traveled cross country to visit. Seeing all the little ones running around in their matching pajamas was oh so cute.
…
…
…
Add a Charitable Twist to Your SpongeBob Party
Start early.  Teach your kids to think about giving in every aspect of their lives, especially celebrations. Looking for a way to add a charitable element to your celebration? Rather than accept more junky toys to clutter your house, ask your friends and family to adopt an endangered sea animal in honor or the birthday boy or girl. They can then bring the stuffed animal and certificate to the party as their gift. Another option is to use the adoption gifts as party decor and then donate the stuffed animals to your favorite children's charity.
…
Rather than an ordinary craft project consider making an easy no sew fleece golf theme blankets for local children or seniors in need. Coordinate with friends, family, and your favorite charitable organizations to make an even more significant impact on your community.
…
Cotton Print-Spongebob Undersea Flower
After clicking on the link, do not be discouraged if the fabric is "no longer available" — simply search SpongeBob. The fabrics are very popular and are sold out quickly but are just as quickly replaced with new patterns.…
…
…
…
Make the Day Last a Year

Don't let this memorable night fade away with the morning sun. The next day, when all is still fresh, log onto Snapfish.com to create photo books, memory calendars, and even photo thank you notes or create a 5×7 photo card announcing the day, time, and location of your next celebration.
…
This might also be a great opportunity to create "memory insurance."
Hustle the box of photos out from under your bed and grandma's bed and send them to GoPhoto to be scanned so the family can enjoy the photos forever! This would make an incredibly memorable present for any occasion!
…
…
…

…
Party Hearty!
…
…
…