Movie Night   …
…
This party is based on an at home, casual style evening.  If you are interested in a more glitzy event see Party Idea Pros' Hollywood Nights celebration package or for a more animated, relaxed celebration appropriate for day or night, Lights, Camera, Action
…
New!
Check out our latest celebration package!
Summer Fun – Backyard Movie Night
…
Perfect party favors or napkin rings!
Director's Cut Hollywood Deluxe Party Pack
…
…
…
 Movie Night Invitations and Stamps
Choosing your invitation is the equivalent of the title of a paper … it sets the tone for the entire party, even a casual party!
Movie Ticket Photo Party Invitation
Take Two Movie Party Invitation
Popcorn Treat Photo Invitation
…
Hollywood 'Star Event' Invitations
"Show Time" Movie Ticket Invitations
…
Popcorn and Movie Ticket Yellow Party Invitation
…
Elegant Return Address
The custom embosser is all about sophistication. Now you can easily add some elegance to everyday stationery or as an elegant alternative to having your return addresses printed on your party invitation envelopes. They also make wonderful gifts. You will be surprised at how often you use your new embosser.
…
…
Lights, Camera, Action Theme Party Stamps
Personalize your stamps or use one of the great zazzle stamps.  Please be sure to bring a complete invitation, including all inserts, to a local post office to determine exactly how much postage is required.
Movie Film Cine Camera Hollywood
…
…
If you decide not to customize, please do not mix stamps. It is better to add too much postage than a hodgepodge of mismatched stamps. You have spent so much time and money on every other detail, the difference in price is not worth giving a sloppy first impression.
…
Personal Websites
Have you always wanted a friends and family web page? Set-up an event web site to improve communication, and keep your guests. informed This is a fun extra. If you are on a tight budget and have computer savvy friends and family, you might even want to save money by foregoing invitations and instead send invites via your website.
…
…
…
Movie Night Party Table Linens
There are so many great options for a Movie Night.  Keep it simple.  Just throw on a white, yellow, blue, green, or red cotton table cloth.  If you don't have your own, BBJ Linen has a huge selection from which to choose.
Generally Party Idea Pros stays away from paper products, but in this case a plastic tablecloth would be absolutely fine. If you also use Party Idea Pros' recommended paper goods, we would suggest using yellow, black or red tablecloths.  Alternately, pick up some black, red,or yellow scrap booking paper and cover with the movie section from your local newspaper.  Cut the newspaper to 11×11 so that there will be a one inch border showing and then use a scrapbook adhesive.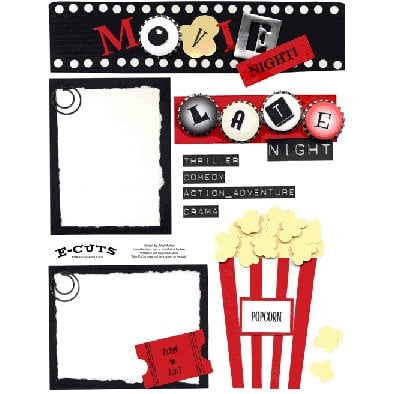 E-Cuts (Download and Print) Movie Night
…
If you are feeling creative and have lots of time, you can even create a layout highlighting your guest of honor.  Alternatively, use your placemats as place cards by creating a page for each of your guests.  Laminate it and tie with personalized ribbon for a complete favor anyone can enjoy.
…
…
…
Movie Night Party Centerpieces
Party Idea Pros favorite centerpiece, pictured on the top of the page, disappeared before we could post it online.  Keep your eye out for it during the months surrounding Father's Day.  So as a second choice, buy a waterproof popcorn container and fill with your favorite bunch of flowers.  Choose one style or mix and match your centerpieces.
Make a Wish
Dashing Daisies
…
Slightly less expensive but still appealing options are available at  Hollywood Mega Store. Mix and match all the different styles and looks..
(Sorry, I can't link directly to each item. Just click the item name and then search for it on Hollywood Mega Store )
Hollywood Studio Clapboard & Reel Centerpiece
…
Movie Reel With Filmstrip Centerpiece Each
Movie Camera Metal Centerpiece Each
…
For inexpensive table decor simply stuff these cute gift bags with black, gold, or silver tissue paper, with admission tickets flowing out of the bag.  Add a mylar balloon and coordinating latex balloons.

Admit One Tickets (Roll of 25)
Hollywood theme latex balloons
Black with Gold Stars Latex Balloons
Silver Latex Balloons
Red Latex Balloons
Yet another option is to fill a standard fishbowl with strips of developed film strip!
35mm Developed Film Strip – 10 feet
…
…
…
Movie Theme Napkin Rings
Let your napkin rings double as your party favor!
Diamond ring keychains (To save a few dollars, use this key ring and achieve the same effect!)
…
…
…
…
Movie

Theme Party Place Card Holder & Party Favors
Clapboard Photo Keychain
Paint a sheet of plywood either black, gold, or even red.  Then hammer nails into the board with enough room between the nails to hang your clapboard key chain. Replace the photos with your guests name and table numbers.  Not so into DIY … instead of painted plywood use one of the Hollwood Mega Store's larger than life cardboard cutouts.
Popcorn Bag Standup
Mega Movie Clapboard
The Star Award
Calligraph each index card in gold or silver with your guests' names and their table numbers. Then place card in picture frame.
4″ x 6″ Unruled White Index Cards
Paint a sheet of plywood either black, gold, or even red.  Then hammer nails into the board with enough room between the nails to hang your Oscar key chain.  Just write your guests name and table numbers on the bottom of the Oscar in gold metallic pen.
…
Replace the photos with your guests name and table numbers.
…
A unique option for your place cards … just wirte your guest's name on one side and the table number on the other. Use a different color film strip bow for each table
…
Use a fine point or paint marker to rite your guests' names on your place cards
Niji Metallic Paint Markers
Set of 5, Sharpie Markers in Assorted Colors, Fine Point
…
…
…
More
Movie
Theme Party Favors
Mini Pewter 'Director Chair' (with magnetized seat to hold paper clips)
Clapboard Mini Notes (Use the first page for your menu!)
…
Movie Ticket Glitter Keytag Silver
Movie Ticket Glitter Frame Gold

…
…
Picture Frames
…
For the young at heart
…
Black Hollywood Star Teddy Bear
…
More Party Favors
Access to award-winning indie and foreign films.
Film Movement brings the film festival to your home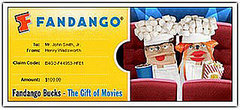 …
…
…
Movie Theme Candles
Movie Reel & Star Floating Candles

Tea light candles (20 pack)
Votive/Tealight Cup
…
…
…
Movie Theme Party Paper Goods
Movie Theater Popcorn Paper Plates
…
Movie Theme Plastic Tablecloths
'Lights, Camera, Action' Table Cloth
Stars Shiny Metallic Table Skirt
…
…
…
Movie Theme Cocktail Napkins, Guest Towels, Gift Bags
No matter how formal or casual your party, fun beverage napkins will get your celebration off to a festive start. Choose one style or mix and match all styles to add a bit of punch to your cocktail hour. Order 5-6 napkins per guest figuring everyone has 1-2 drinks, and 3-4 appetizers each.
Personalized Napkins and Guest Towels with Butterfly Designs
Personalized Krepe Craft Napkins, Guest Towels, and Gift Bags
Movie Icons Film Strip Beverage Napkins
…
Lights, Camera, Action Beverage Napkins
…
…
…
Movie Theme Balloons
…
Lights Camera Action Mylar Balloon
Black with Gold Stars Latex Balloons
…
…
…
…
Movie Theme Party Decor and Party Props
Most likely these large party props are more than your casual party calls for but if you are looking for a piece or two to make your party extra special, there are lots of movie props from which to choose.
…
…
…
Movie Reels and Film Cans
…
Movie Theme Chairs and Pillows
Gold Medal Director's Chair – Tall
Gold Medal Director's Chair – Short
…
Movie Theme Desk Lamps
…
Movie Theme Trophies
…
Movie Theme License Plates and Street Signs
…
Movie Theme Life Size Cut Outs
Huge Collection of Life Size Celebrity Cut Outs
…
Movie and Celebrity Posters
…
…
Large Movie Props
Box Office Bliss Hollywood Kit
Movie Popcorn Banner 18 X 54 Horizontal Vinyl Banner
…
…
…
The Little Extras for your
Movie
Theme Party
Sometimes Party Idea Pros just comes across an idea or a site which might provide that little extra something you are searching for … Also be sure to check out Hollywood Mega Store and Stumps Party for for even more great movie theme options.
Movieland Salt & Pepper Shakers
Clapboard Food & Cocktail Picks
…
Movie Theme Confetti
Movie Clapboard & Film Strip Confetti
Metallic Stars Confetti – Silver
…
Popcorn Boxes
Plastic Popcorn Box Each
Fill with popcorn, of course!
…
Party Give-Aways
…
Admit One Tickets (Roll of 25)
Admit one Tickets with unique numbers. Use for prize drawings, as invitations, entry stubs, or giveaways.
…
…
Printable Movie Theme Games

Movie Match… For The Game We Love
Chick Flicks vs. Action: Famous Movie Quotes
Movie Love Quotes
Best & Worst Comic Movie Characters
…
…

Movie Theme Food and Drink



Water Bottles & Personalized Labels
…
Create your own MyJones movie  moment.
…

…
…
…
Movie Theme Freshening Baskets/ Emergency Kits
Buy a real film can to display sample sized essentials. Place in powder rooms.
…
First aid kit, Tylenol, Advil, hairbrush, comb, bobby pins, concealer, lip gloss, mouth wash, hairspray, stain remover, antacid, tampons and sanitary pads, sewing kit, clear nail polish, nail polish remover, nail file, mints & hard candies, hand lotion, and dental floss…
…
…
Movie Keepsake Albums
Movie Fan Keepsake Collectors Customizable Album
…
…
…
Movie Party Clothing, Shoes, and Accessories
Not sure what to wear? Nothing is easier than buying on the internet. Whether you need a sun dress for a beach party or an elegant suit to take you to the White House, you can find it online. Avoid parking hassles and over bearing sales people. Shop any time of the day or night. Generally companies make returns easy, if the item doesn't fit or you just don't like it. Order online today and receive that perfect something at your doorstep in just a few days!
Endless.com Shoes and Handbags
Hollywood Mega Store ( hoodies, t-shirts)
…
Movie Theme Neckties
There are many pages of handsome ties for your movie theme party: Zazzle
…
Movie Theme T-shirts
For a fun look, consider using these t-shirts as both chair covers and party favors.
…

…
…
Make the Night Last a Year
Don't let this memorable day fade away with the setting sun. The next day, when all is still fresh, log onto Shutterfly.com to create photo books, memory calendars, and even photo thank you notes or create a 5×7 photo card announcing the day, time, and location of your next celebration.
Collage Calendars
…
…
…
Party Hearty!
…
…
…
…
…
…